What is an affidavit of petitioner's evidence?
In Manitoba, the  Affidavit of Petitioner's evidence also known as the "affidavit of divorce" is a sworn statement filed with the Court in order to finalize a divorce. It provides the judge the evidence needed to establish the ground for divorce and any other matter in issue. The affidavit is signed by the petitioner, namely the person who is asking for the divorce. In the case of a joint divorce, both co-applicants would have to sign the affidavit.
An affidavit of Petitioner's evidence is only used when the divorce is uncontested. It is typically not suitable in situations where the spouses are in conflict over some issue. In those cases, it may be necessary to testify in Court and be cross examined.
The affidavit of divorce has a basic structure and content which needs to be adapted to your specific circumstances. At a basic level it provides biographical information such as your full name, the full name of your spouse, your birthdays, the place and date of marriage, and the date of separation. Depending on your circumstances the affidavit of divorce will also deal with other matters such as custody and child support in which case information must be provided dealing with the best interests of the children and the financial capacity of the parents to pay child support such as attaching financial information and proof of income.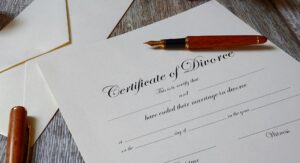 In addition to the basic information required in an affidavit of petitioner's evidence you will need to attach various exhibits. Exhibits are documents that supplement the information in your affidavit or prove certain facts. Examples of this include your marriage certificate and tax returns.
Once the affidavit is ready for filing it needs to be sworn or affirmed in front of a Notary or Commissioner for Oaths, or some other person authorized by law to witness affidavits. Because of the pandemic it is no longer necessary to meet with a notary in person to sign the document. The rules now allow you to sign the document and have it witnessed by Zoom, for added safety and convenience.
If an affidavit of divorce is not done correctly and the information in it is incomplete or incorrect, the Judge may refuse to grant the divorce. Many unrepresented litigants run into problems trying to complete their divorce because they do not do the affidavit correctly and fail to include the necessary information that the Judge requires.
Every situation is different and your affidavit of divorce will need to be tailored to your specific circumstances to provide the evidence that is necessary in your case. We invite you to contact us to schedule a consultation so that we can discuss your specific needs and how we can help you in completing your divorce.